Are you a homeowner asking, how much is a shower remodel? A shower remodel is an excellent investment, adding style and function to a bathroom. However, there is no "one size fits all" answer to this question! Shower remodel costs depend on the scope of the project, materials chosen, repairs needed, and other such factors.
A shower remodel usually costs around $3000 on average, but varies greatly. New tile alone might cost just over $1000, while replacing shower heads and other fixtures can run less than $100. New glass doors might average just over $1000 while grab bar installation might cost around $100 each.
No matter your costs, a shower remodel is a great choice for any home! Old, worn out tile and grout risk drywall damage and wood framing rot. An outdated, downright ugly shower can also make the entire bathroom look dingy and dull.
On the other hand, an updated shower can include space for spa-like seating and built-in storage. New tile protects building materials, and offers a stunning look you're sure to love! Check out some added information about shower remodel cost so you know what to expect from a local contractor.
How Much Does Redoing a Shower Cost?
Shower remodel costs vary according to your overall plans and materials chosen, as said. Most homeowners can expect to pay somewhere in the $3000 range for a full-scale shower renovation.
Additionally, you might consider some specific costs for various renovation plans and materials. Remember that these are just averages! Your contractor can offer a more specific quote for your shower renovation plans.
If you need to hire an interior designer, you might pay anywhere from $50 to $200 per hour for their services.
For a home needing plumbing repair or relocating, expect to pay $600 per hour and up for a plumber.
Contractors might charge $400 or more per hour for actual shower installation and updates.
Installing a new shower kit might start at $600, and average $1000 or more for parts and labor.
A contractor might charge anywhere from $1 to $50 per square foot for new tile installation.
Replacing a shower door usually runs between $600 to $1000 or more.
Upgrading shower heads and faucets might cost as low as $50 per piece.
How Much Does a Small Shower Remodel Cost?
A shower remodel can mean added style and function for a cramped and crowded space! Converting a tub to a walk-in shower, for example, makes the space seem larger and less confined. Lighter colors and a glass door also brighten a small space, creating a welcoming look.
As with any home renovation project, your small shower remodel cost vary according to your plans and chosen materials. To give you an idea of what to expect, note what you might accomplish on a limited budget.
For less than $1000, you might retile the shower and swap out the shower head and faucets. A spray coating over the tub also offers a brand new appearance.
Some premade shower kits also run less than $1000, often starting at about $600. Opt for one that's simple to install so you can manage the project yourself. In turn, you'll have a completely new shower for under a thousand dollars!
The average tub to shower conversion cost might start at $1200 and average about $3000, per Home Advisor. A walk-in shower means added space while bathing.
A $3000 budget might allow you to rework the shower's plumbing, adding secondary shower heads and updated fixtures. If you don't opt for a shower kit, you might also select high-end tile, a glass door, and other luxuries.
Homeowners should also note some simple, inexpensive touches that update a bathroom instantly. One such change is fresh paint! Two, swap out outdated towel bars in the shower and along bathroom walls. Three, remember that fresh linens and storage baskets can offer a stunning look for not a lot of cost!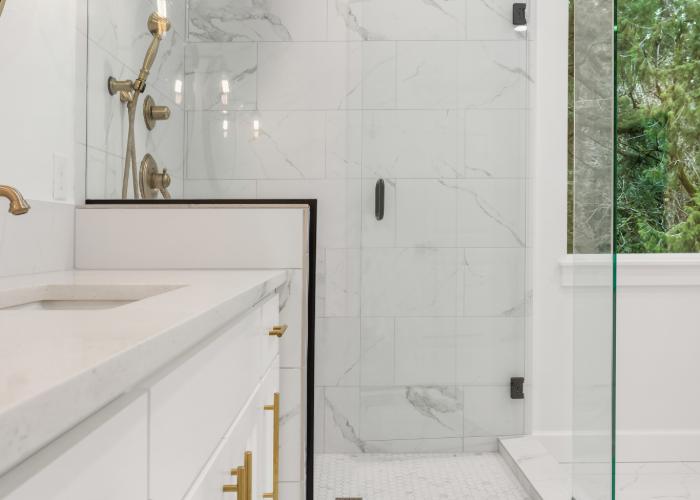 How Long Does It Take to Remodel a Shower?
Some shower remodels only need a day to accomplish! Sliding a shower kit into a prepared space might take just a few hours. Small retiling jobs, swapping out shower heads, and other minor work might also require just a day to complete.
Full-scale shower replacement might take 3 to 5 days. Additional repair work, such as replacing rotted sub-flooring, adds to this timeframe. Also, note that relocating the shower might require a full week or more. Plumbing, wiring, and other fixtures need rerouting before a contractor can start installing the shower, adding days to your project.
What Is the Most Expensive Part of a Bathroom Remodel?
Labor costs are typically the most expensive part of a bathroom remodel! Next is a new tub or shower kit. Tile is usually the costliest material after that.
However, homeowners might also budget for needed repairs in the bathroom. Old and worn floorboards, for example, might risk cracking or water leaks. Outdated wiring also might not support new electrical fixtures such as a whirlpool tub or oversized lighting.
A shower remodel is also a great chance to replace outdated plumbing and other features. After all, the space will already be torn up and unusable! Have a contractor inspect the sub-flooring, wiring, and other features before work begins. You can then better plan your budget, incorporating those repair costs.
How Much Does It Cost to Retile a Shower?
Shower retiling is often quoted per square foot, including material and labor costs. Average shower retiling costs range between $2 and $17 per square foot. Materials chosen usually affect that price more than anything! Wanting a specialty design can also increase your costs.
Ceramic and travertine tile usually hit the low end of that scale, at $0.50 to $3 per square foot on average. Slate and granite both start around $3, but granite might average up to $7 or more per square foot. Limestone usually averages $5 per square foot, while marble is the most expensive at $8 per square foot, on average.
Sarasota Bathroom Remodeling & Design is happy to provide this information to our readers. Hopefully it helped answer the question, how much is a shower remodel? If you're ready for a stunning renovation in your home, call our Sarasota bathroom remodeling contractors. We offer FREE design consultations and price quotes. All work is fully guaranteed! So, what are you waiting for? Get started on your stunning new design by calling us today.