Are you considering bathroom remodeling in Sarasota? If so, you might wonder if the project is worth the cost. After all, most homeowners will spend anywhere from $2500 to $5000, or even $10,000 or more, on a new bathroom!
However, there are many reasons why a bathroom renovation is worth that investment! Check out some reasons why it's time for you to call a bathroom remodeling contractor near you. He or she can also explain why a renovation is an excellent choice for any home.
Bathroom Remodeling in a Sarasota Home Reduces Stress!
How might a bathroom remodeling in Sarasota reduce stress? One way is by enlarging various areas, such as a vanity or shower area. Two, a walk-in shower can mean added safety for those with balance issues, alleviating concern over their safety.
Additionally, consider how added storage in your home's bathroom can mean less stress for everyone! You won't need to hunt for various items or fight to separate hair care products every morning. Also, separate storage in shared bathrooms can keep everyone organized, also alleviating stress.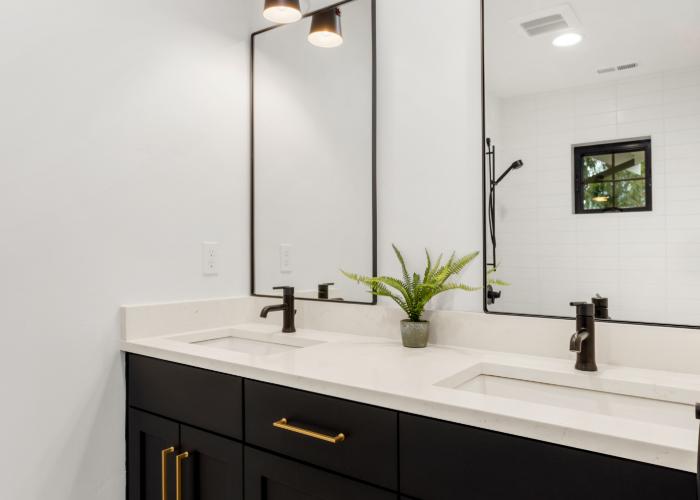 Want to Enjoy a Home Spa? Schedule a Bathroom Remodel!
There's no reason you can't enjoy a beautiful, relaxing spa experience in the privacy of your own home! Many homeowners are including spa-like features in their home's bathroom remodel plans. For example, you might opt for a garden size tub, with added space for comfortable relaxing.
Also, many of today's tubs come with whirlpool jets and heaters, to help relax tired muscles. Consider, too, built-in shower seating and multiple showerheads. All these small details can transform even the dullest bathroom space into a luxurious spa you'll love using!
You Need Safe, Hygienic Surfaces In Your Home's Bathroom
Over time, bathroom floor tiles and countertop material might chip or crack. Additionally, grout and caulk tend to break down over the years. In turn, floor tiles can slip out of place, creating slipping hazards. Also, those chips and damaged caulk can trap dirt, germs, bacteria, and other harmful irritants.
Replacing those materials during a bathroom remodel ensures safe, hygienic surfaces in the bathroom. Additionally, today's bathroom materials are easier to clean than ever before. Consequently, you might spend less time cleaning the bathroom once you invest in a quality renovation for the space!
Remodels Can Increase Privacy for Shared Spaces
If you have a shared bathroom in your home, consider if it might need some added privacy! Today's bathrooms often include a lavatory, or a small, separate room for the toilet alone. Partitions, glass block walls and windows, and other simple touches also increase privacy and comfort in shared spaces.
Also, many homeowners appreciate separate sinks in a shared bath, rather than a large vanity. Separate sinks ensure there is no fighting over counter space and help keep personal care items separate. These simple touches make a shared bathroom easier to use for everyone in the family.
A Bathroom Remodel Can Make Better Use of the Space Overall
A full-scale bathroom remodel can make better use of a home's space overall. For example, you might have unused, "dead" space in an adjoining bedroom. A bathroom renovation might relocate a wall, adding needed space in the bathroom while reducing that emptiness in the bedroom.
In the same way, a bathroom renovation contractor might relocate or expand a linen closet. He or she can also typically relocate doorways, for easier foot traffic in and out of the bathroom. Whatever your bathroom needs to make best use of the space, a bathroom contractor can get it done!
Increase Property Values With Bathroom Remodeling in Sarasota
There is probably no better way to increase your home's value than with bathroom remodeling! Property values are based on what potential buyers might pay for that home and many buyers appreciate an updated bathroom. In turn, adding a new bathroom or renovating an existing bath can mean increased value instantly.
Consider, too, that increased value means added equity even if you don't decide to sell! Also, don't forget how much you'll enjoy that updated space for yourself and your family. A bathroom renovation can mean increased storage and less stress, and a stunning bath you'll love to use every day!
Sarasota Bathroom Remodeling & Design is happy to provide this information about bathroom remodeling in Sarasota to our readers. Hopefully you found it helpful and informative! If you're ready for a change in your home, contact our Sarasota bathroom remodeling contractors. We'll start you off with a FREE consultation and price quote. For more information, don't hesitate to contact our customer service representatives today!