With so many bathroom remodeling companies in Sarasota, how do you choose the right contractor for your renovation project? Since the results of a renovation rely on a contractor's skill, it's vital you find one you can trust!
There is no "one size fits all" checklist for choosing a home renovation contractor. However, you might note some tips for choosing someone for your bathroom remodeling project. This will ensure you end up with a bathroom space you'll love for years to come!
What to Look For in Bathroom Remodeling Companies in Sarasota
Before shopping for bathroom renovation companies in the Sarasota area, make a list of all your desired changes and updates. Separate those lists into "wants" and "needs." For instance, you might want a larger tub for soaking, but need double sinks in a shared bathroom.
Knowing your wants and needs gives a renovation contractor an idea of how to prepare their plans and pricing. Once you have your ideas firmly in mind, it's time to start shopping for various contractors. Take your time making your selection, so you end up with the best company for your renovation plans.
Make a list of a few potential renovation contractors you might hire. Check online reviews of each, including sites for contractors in particular.

Reputable renovation companies will typically have a portfolio on their website. Browse their past projects and note if it seems like they can provide the end result you want in your home's bathroom space.

Get a price quote from at least three contractors, as this will tell you about how much your plans will cost. Don't assume the lowest bidder is the right choice, however! An inexperienced contractor might cut corners just to offer a lower price. Quality contractors know their worth and charge clients accordingly.

A contractor should be honest about the cost of your project and your budget. For instance, a contractor might note that the marble floors you want put your renovation plans well over your budget. He or she might then work with you to find an acceptable, affordable alternative.

Along the same lines, use caution about choosing a contractor that pressures you to go over your home renovation budget. Most homeowners choose a budget that is the maximum amount they can afford. Your contractor should respect that amount and avoid undue pressure when it comes to paying more than you can afford.

A contractor should put everything in writing, in detail! A price quote should include all the work they'll be doing, their timeframe, and when payment is due.

 

Contractors should also offer guarantees for their work. Bathroom renovation contractors should warranty materials against plumbing leaks, electrical issues, and the like. Ensure you get a copy of their guarantee along with their quote, and read it carefully!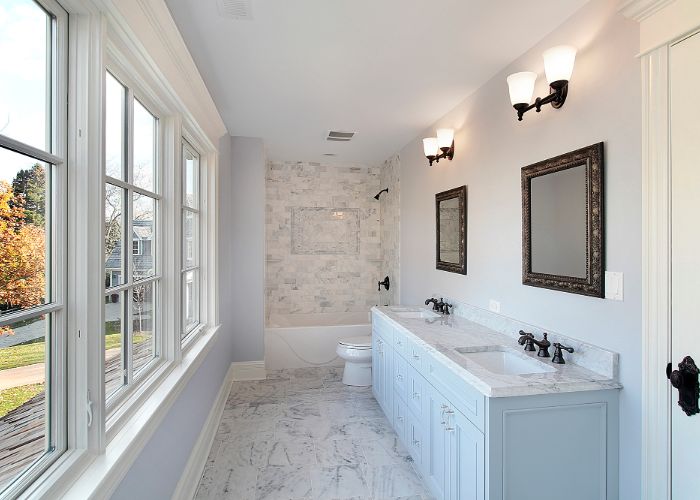 Ask Bathroom Renovation Contractors Some Questions!
Homeowners should also ensure they've covered every detail with a potential contractor. For instance, you might ask:
Will they work weekends to ensure timely completion? What if you don't want them there on the weekend when your family is home?

Can you buy materials yourself or reuse existing materials?

Is there any work a homeowner might do themselves, to reduce costs?

Will the contractor face penalties for going over their promised completion date?
Their answers can help you choose a professional, reliable contractor. However, you also want to pay attention to how they answer! Avoid contractors who seem impatient with your questions or who try to rush you into signing an agreement.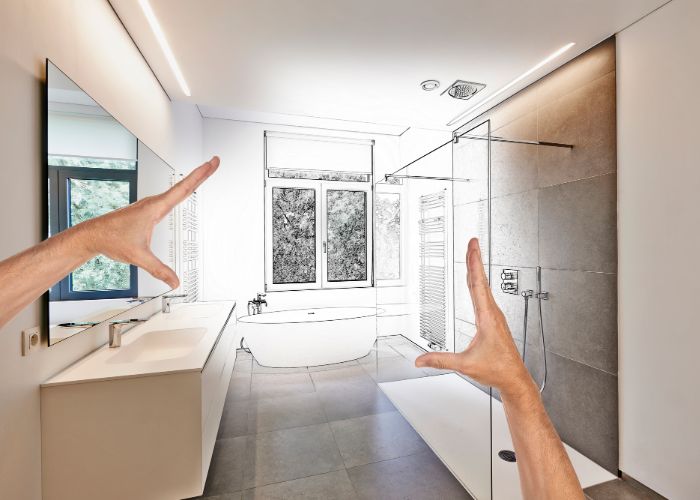 Should You Hire a Bathroom Remodeling Company for Your Home?
After getting quotes from local remodeling companies, you might wonder if you can save money by doing the work yourself. This is never recommended, but especially for bathroom renovation projects!
One reason to leave this work in the hands of a pro is that bathrooms use both water and electricity. Water conducts electricity, making these a risky combination if installed incorrectly! Water dripping onto worn wires or connectors can also cause shorts and outages.
Improperly installed tile, tubs, sinks, and other fixtures and features can allow water to seep into walls and subflooring. This risks wood rot and mold growth, both of which are costly to address.
Homeowners should also remember that bathroom renovations must be done to local codes! Poor-quality work, especially if it's not up to code, can affect home values. You might find it difficult to sell your home if you decide to put it on the market sometime in the future.
Sarasota Bathroom Remodeling & Design is happy to bring this information about finding a bathroom remodeling company in Sarasota to our readers. We hope you found it helpful! If you're in the market for a quality renovation company, give us a call. Our Sarasota bathroom remodeling contractors have the skills and experience needed to bring your dream bathroom to life! To get started with your FREE design consultation, give us a call.